Christmas Lunch in Malta – Where to Buy Your Quality Produce
What is Christmas all about if it isn't for food? With Covid keeping us home this year, it's all the more important to find quality produce to enjoy with our families. So we've compiled a list with non-sponsored, hand-picked, quality produce shops.
Whether you love a traditional turkey, would rather opt for fish or are vegetarian, we've got you covered with these. You'll be having a heavenly home-cooked feast for Christmas lunch!
Starters
The Maltese usually start their Christmas meal with a delicious soup or timpana. Timpana is a baked pasta pie with layers of mince, bacon and hard boiled eggs. If you're new to the Maltese cuisine, it's definitely worth a try!
Timpana can be found at Deguara Confectionery in Swieqi, where you'll get 24 pieces for €12,50.
Meat
Just like in many other countries, Maltese Christmas meals often include a traditional turkey. But no worries if you prefer lamb, chicken or roast beef – these places will have you sorted!
At Meats & Eats on Dingli Street in Sliema you will find a wide assortment of meat, including whole turkeys, bone-in turkeys and turkeys with special stuffings. Whether you prefer apricot and thyme, or walnut and cranberry, you'll definitely find your favourite here. You can already pre-order for Christmas.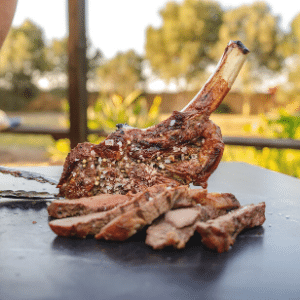 One of our favourites is La Boucherie. With an amazing online shop, you will get your order the next day if you order before 12am. And besides impeccable service, they have an amazing selection of all types of meat you can imagine – from beef and poultry to pigeon and wild boar…
Meat and More Butcher Shop in Swieqi offers a variety of different types of fresh, quality meats. With friendly and knowledgeable staff, you'll surely find what you love in their huge meat selection. They take Christmas orders till 15 December.
One of the best butchers in Malta is situated in the heart of Naxxar. Charles Butcher has an amazing selection of all types of meat on offer. You can't go wrong with their high-quality and delicious products. You can order for Christmas now.
If you do your groceries at Smart Supermarket, you'll already know the Smart Butcher Shop in Balzan offers great value. The butcher has delicious, high-quality meat and is conveniently located within the supermarket.
Fish
If you are looking for an alternative lunch this year, we've got you covered! For pescetarians in the family and those that simply prefer seafood for lunch, there are many great options, too.
Adam's Fish Shop in Mosta has a great selection of fish and shellfish. Go for smoked salmon or a shellfish platter to share.
Real fish lovers adore Bottarga in Balzan. They serve the freshest fish on the market, and the chefs will ensure you that you go home satisfied. You can get your fish whole, filleted, smoked, marinated, stuffed… You'll also find a great selection of the finest wines to accompany your meal here.
And just like the Smart Butcher Shop, most big supermarkets have in-house counters with great quality and value for money. We particularly love the selection available at Greens in Swieqi.
Vegan and vegetarian
If you think vegan and vegetarian options are limited, think again! With the Christmas spirit in mind, you'll be doing good for the planet, animals and yourself. And Malta has plenty of great places to get the freshest local veggies.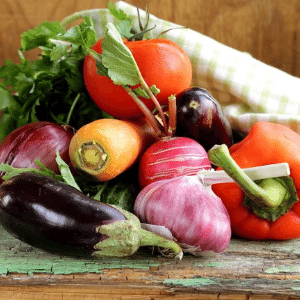 With these top 4 delivery services, you can order goodies to your home with the click of a button. Our favourites are Mgarr Farms, with free, super efficient deliveries from 25 euros upwards, and the Farmer's Deli for top-quality and 100% certified organic produce.
If you love farmer's markets, check out Ta Qali market on Tuesday afternoons and Saturdays for the cheapest, freshest produce on the island. Another great local option is St. Andrews farm in Swieqi, offering all types of healthy veggies and deliveries on Fridays. 
Bint I-irjieh offers homegrown and pesticide free fruit and vegetables. Order through Facebook, Instagram or WhatsApp for deliveries on Wednesdays. And if you're craving meatballs, La Boucherie even offers plant-based minced meat!
You'll find enough great vegetables and vegan options to make the most delicious Christmas meals. Vegan mashed potatoes, green bean casserole and roasted asparagus are guaranteed successes – even for the omnivores.
Sides
For sides, you can't go wrong with fresh produce either. You'll find the perfect Maltese potatoes for mashed potatoes in the places mentioned above, and parsnips and carrots will make another delicious side when roasted in the oven with the right seasoning.
Dessert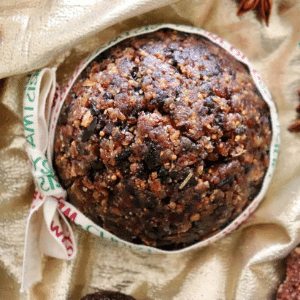 Desserts might just be our favourite part of the feast. Check out Cafe Santa Lucia for specialty, traditional Maltese desserts with genuine flavour.
Jo's Delights is perfect for amazing vegan desserts, as well as soy-free and intolerance-safe treats.
For a traditional Maltese dessert, serve Christmas pudding. It's a moist, cake-like bread filled with dried fruits, nuts and raisins. Traditionally the pudding is flamed by heating brandy, rum or whisky, lighting the spirit on fire and pouring it all over the pudding. Another fun tradition is putting a silver coin in it – whoever finds it will have good luck.
If you have a real sweet-tooth, you can't miss out on mince pies for tea time. They're surprisingly easy to make! Check out this recipe for delicious home-made mince pies.
If you have any other questions about Christmas Lunches in Malta, reach out to us on the Mini Malta Facebook Group – we're happy to help!
Merry Christmas and bon appétit!