Neil Agius is a Maltese national treasure. The Olympian came to fame with an epic swim around Malta, he grabbed the headlines again this year by beating the existing record to swim from Sicily to Malta, completing it in 28 hours, 7 minutes and 27 seconds. Taking on this challenge, Neil raised awareness for The Wave of Change movement, encouraging every person to collect three items of rubbish every time they visit the seaside, to help reduce maritime pollution.
When not completing these monster challenges, Neil has helped countless children to learn how to swim. His Swimming Workshops are phenomenally successful and a safe place for children to gain confidence in the water. Here, Neil offers Mini Malta readers his wisdom on all matters aquatic…
1. There seems to be so much conflicting advice about armbands and other flotation devices. Should I use them with my preschooler or are they better off without them?
I'm not the biggest fan of armbands or flotation devices but it always depends on which situation you are in. If you are at a friend's house and there are lots of children running around, some of whom can't swim, I would put armbands on your child as that would be the safest thing. It's so easy to get caught up in a conversation with someone and not have your eyes on them all the time, so it is a tiny bit safer if they have them on. If, however, you are in the pool with them, a noodle under their arms and then learning to swim independently without a noodle is the best. Once they have worn armbands, it is much harder for us to teach them how to swim unaided.
2. I am new to Malta and keen to get my children in the sea as well as just the pool. Where are the best places to go on the island to get them started and what is the best way to build their confidence?
The best place to send your children to learn is our Swimming Workshops! We offer lessons for kids in small groups of five children or less. Once you do start sending them to lessons, the more you go to the beach or the pool, the quicker they will build their confidence and become really happy in the water. Obviously, when you are going into the sea make sure it is not too rough and there are no jellyfish because once a child gets stung by a jellyfish, they are not too keen to swim for a while after that! It gives them a fright!
3. "My child is really scared of the water. There is no obvious reason why but he refuses to even try to get in and get started. I feel that he's missing out so much by living in Malta and not swimming. What can I do to get him past this?"
If your child is scared of the water, what we do is take time to make them comfortable and don't push them to do things they are not happy doing. What I would do with a nervous child is to get them to sit at the side of the pool where they can wet their feet, then get their ankles into the pool. If they are happy doing that, after that you get them on the first step and walking backwards and forwards across it, then down another step and holding their hand. Then repeat the process not holding their hand. All the time you need to make sure they are happy and don't force them to do anything as that will make them want to rebel even more against the idea of getting in the water. Proper swimming lessons will always help with this situation.
4. Once my child is swimming independently, what are the main things I can do to keep them safe in the water while also encouraging them to gain confidence and skill as a swimmer?
Once your children have learned how to swim, and especially when they are in water they are not used to, the most important thing is that you show them where the steps are and make sure that they know they can hold onto the walls if they do get tired. Of course, it's always important to be in the area and to keep an eye on them. Children tend to get quite adventurous and do things they shouldn't do just after they have learned how to swim so this is the time to be extra vigilant.
5. It would be very remiss not to ask about your epic Sicily to Malta swim! How did you get into long distance swimming and what keeps you going throughout the many hours alone in the water?
I've been into swimming since I was young. My parents sent me to Neptune Swimming Club from a young age and, once I got a little bit older, I always excelled at long distances in the pool. After that, something that I always wanted to do was swim around Malta and that really triggered it all with me wanting to swim longer and longer distances. When I am in the middle of these long swims, the hours alone don't bother me. I just try to keep my head in an empty space. I meditate and keep a clear mind, and that makes the time pass a lot faster.
Let us know if you have any questions for Neil – we'll keep in touch and pass on replies. Add your questions in the comments below or email editor@minimalta.com. If you're looking to get in contact with Neil about his Swimming Workshops for children of all ages, go to www.swimmingworkshop.com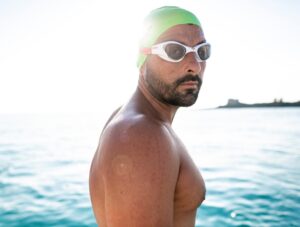 Neil Agius
Neil Agius hit the headlines here in Malta again this summer with his epic swim from Sicily to Malta. Taking a record-breaking 28 hours, Neil become only the second person in history to complete this swim and also brought attention to the plight of our oceans thanks to pollution. A swimming coach and former Olympian, Neil is without doubt the best qualified voice on the island to advice on all matters related to swimming. 
(Photo cred: Kurt Arrigo)