Malta is an island of beautiful food and enthusiastic foodies. The fresh produce, fish and speciality ingredients which can be found here on our small island are very special indeed.
The Mediterranean Culinary Academy (MCA) is a business which celebrates the wealth of delicious ingredients that can be found here in Malta. Offering cooking courses, private events and – during lockdown – the most incredible recipe boxes, the MCA offers a truly unique way of bringing the island's food scene to life. Kurt Mifsud, founder of MCA, is absolutely passionate about locally sourced, fresh ingredients and here he offers Mini Malta readers some advice on how to make the most of Malta's fantastic cuisine.
1. Which Maltese ingredients and dishes should new arrivals to the island make sure that they try?
Definitely take some time to find some local extra virgin olive oil as it's something that has been produced in Malta for thousands of years and is just superb.
As for a dish, I would suggest a fenkata, or traditional rabbit stew, with all the fixings. There is something very indulgent and ritualistic about the whole process. Start with rabbit stew, served on pasta, then move onto the fried rabbit, eating all the offal as you go along. Obviously the rabbit should be accompanied with Maltese bread and fried thick cut local potato chips as well as a few glasses of light local red wine. Perfect!
2. How did you come up with the recipes for your fantastic lockdown recipe boxes? Which have been the most popular?
Stephen La Rosa, who is our Chief Culinary Officer, developed the recipes using the founding principles that are now ingrained in our DNA. These are that all fruit and veg as well as the proteins used must be local.
We have also asked our clients for feedback through surveys and direct communication and so this helps direct us to understand what people are after in our boxes. Of course, because we work with seasonal produce, this also helps direct us.
3. The children's club you are running in the summer sounds fantastic – could you tell us a little more about what you have planned?
The aim of this programme is for kids to start learning one of life's most essential skills – how to feed yourself and your family in a healthy and sustainable way. The course covers essentials such as how to cook eggs, learning to cook with spices and making fresh pasta, as well as some more indulgent delicacies like carrot cake.
We want children to really connect with ingredients and hope that we manage to start a passion for good quality food that lasts them a lifetime.
4. Which store cupboard essentials do you recommend that everyone should have at home?
Local honey, local olive oil and some good quality vinegar.
5. What will be your lasting memories of COVID?
The way people came together (figuratively speaking) and helped each other as a community to get through this extremely difficult period. All in all, I was pleasantly surprised with the respect and generosity people showed during this pandemic.
Let us know if you have any questions for Kurt – we'll keep in touch and pass on replies. Add your questions in the comments below or email editor@minimalta.com. In the meantime, check out their children's courses at www.mcamalta.com/jcp2020.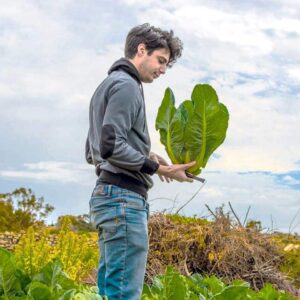 Kurt Mifsud
Kurt is the founder of the Mediterranean Culinary Academy. With a background in gastronomy and food systems, he has always been interested in how people interact with food.