Olga Kanelskaia has lived in Malta with her husband and daughter for five years. As our Expat Expert this week, Olga has shared her top recommendations and advice for settling into island life with your family.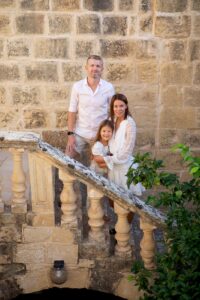 Number One Piece of Advice for new arrivals in Malta
➳ Give it some time to get used to it, and try not to arrive in February, July or August as the weather then will give you a harder start.
Best Way to Meet People and Make Friends
➳ Kids' activities, birthday parties at school and playgrounds.
Favourite Supermarket
➳ Greens
Favourite Specialist Food Shop
➳ Butcher – Meat & Eats on Dingli Street and the butcher at Tower Supermarket Sliema
➳ Bakery – Frensh, St Julian's
➳ Vegetables – the farmer's truck at the top of Tigne Street, Sliema
Favourite Café
➳ French Affaire, Tigne Point
Favourite Outdoor Space
➳ Pembroke fields
Favourite Healthcare Provider
➳ Atlas Insurance
Children's Activity/Club
➳ Gymnastics at Gymstars, Zebbug
➳ Tap and Jazz in Sliema
Biggest Challenge in Malta
➳ Lack of cultural activities; the summer heat and winter rains
Best thing in Malta
➳ Beautiful sea and nice people!
Let us know if you have any questions for Olga – we'll keep in touch and pass on replies. Add your questions in the comments below or email editor@minimalta.com.