With a busy family and two stunning shops, Emma Diacono knows a lot about how to lead a beautiful life with children. Both her brands, My Favourite Things and Coach & I, are stylish, elegant places to go for a carefully curated selection of sustainable products. Indeed, sourcing quality, planet-friendly brands is something of a passion for Emma. Read on for more of her insights into how to shop thoughtfully and beautifully for your family…
Is there such a thing as a capsule wardrobe for a child? What would you consider to be the key building blocks for a really usable, stylish collection of children's clothes?
In my experience as a mother, a capsule wardrobe for your child is a very sensible plan. I like to concentrate on buying high-quality staples which wear well and wash beautifully. A few bottoms and a few tops made in good quality fabrics will give you a choice of outfit combinations, and that really is all your child needs to be dressed well.
That said, in no time at all your children have an opinion on what they wear and then – no matter how curated you hoped to be – there will be the odd one or two favourites creeping in which have nothing to do with you! And will probably want to be work day in, day out.
Children grow so fast that it's tempting to buy cheap and to keep replacing items. Why is this not always the most sensible approach?
Good quality items tend to last better and can be handed down. But this is not the only thing to consider. Natural, organic fabrics are far gentler against delicate skin and, especially living in a hot, humid climate like we have in Malta, this stops children feeling clammy and uncomfortable. Obviously for nursery and messy play, it is worth having a number of cheaper items which you don't mind getting trashed but, overall, your children will be more comfortable and the clothes will last better if you try to invest in good quality fabric.
What are your top present buying picks for friends with new babies?
In our family, we regularly gift the Little Butterfly Soft as Moonlight Nappy Change Cream. It is the most soothing, healing balm – we call it magic cream in our family. And its benefits extend beyond the nappy changing days. Indeed, any cuts, sore skin, bites – anything you can think of really – will benefit from this cream. Even my husband loves it!
Other than that, one of the first brands we featured in the shop, the Cuddledry Apron Towel is another favourite gift option. I have always had quite tall babies and normal baby towels looked like dishcloths on them very quickly! The Apron Towel is more or less a full-sized adult towel and makes lifting them out of the bath and getting them dry so easy. Because of the bamboo in the fibre, it is incredibly soft and snuggly and gets them completely dry by the time you are at the changing table.
What will be your lasting memories of 2020?
Aside from the madness of trying to juggle work and children – and discovering that open planned living isn't always ideal in lockdown! – I have really appreciated the extra quality time we have had together as a family.
With regards to work, it has really shaped us as a team. We've come together and soldiered on through everything. It's been a really wonderful thing to be a part of my team throughout such a challenging year.
Let us know if you have any questions for Emma – we'll keep in touch and pass on replies. Add your questions in the comments below or email editor@minimalta.com.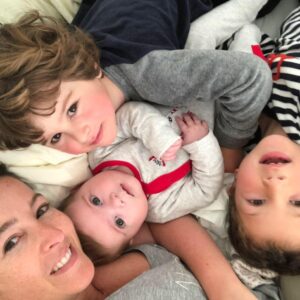 Emma Diacono
Emma is a mother of three children aged eight, five and one. She is the owner of the children's brand My Favourite Things, with two shops in Naxxar and Swieqi, and the newly-launched Coach & I, which specialises in products for an active lifestyle with a focus on sustainability.